TeamXtreme Off Road
Created for northern New Yorkers, in the pursuit of off road enjoyment. We are a team united for one sole reason: the passion for improving our daily driving off road machines to new extremes. Quality and cutting-edge style is the result of our passion for our street and off road machines. Because of this involvement, TeamXtreme Off Road continues to be the raise-the-bar club for the Watertown, Fort Drum New York area.
Designed excusively for 4x4 driving enthusiasts, TeamXtreme Off Road is where the trucks are the stars, but that's not where the participation begins and ends. TeamXtreme Off Road allows members to explore the northern New York back country, compete at national truck show levels, challenge your vehicle on demanding trails, and meet other 4x4 enthusiasts who share the passion. TeamXtreme Off Road is designed for all levels of driving expertise, show quality and type of vehicle.
If you want to find more to do in the Watertown, Fort Drum area, look no further than the TeamXtreme Off Road, a unique blend of 4x4's and prerunners. Sure, your vehicle can get you to work or to the store, but going beyond it's normal limitations to the extreme is what we're all about.
Also check here
for more 4x4 sites.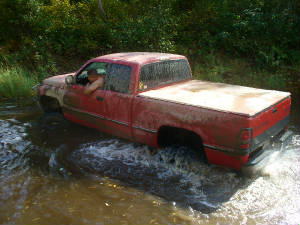 Don't forget to check out
TeamXtreme Off Road's
Web Forum